Sky Fighters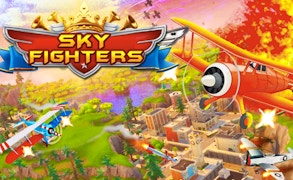 Sky Fighters
At the heart of every adrenaline-fuelled action game fanatic, is the longing for a game that truly pushes their skills to limit. In search of an electrifying experience far above ground level? Look no further than Sky Fighters, a sensational entry among top-tier airplane games.
Sky Fighters submerges players into riveting battle games suspended thousands of feet above earth's surface. This isn't merely about observing stunning cloud canvases and vast azure stretches, but rather defending your airspace in high-velocity combat sequences. Sky Fighters' gameplay guarantees a goose-bump raising experience each time your aircraft ascends into the open sky.
This delightfully treacherous ballet of aerodynamics is what distinguishes Sky Fighters from other flying games. The game challenges you - no, it dares you - to become an ace pilot. Take control of your plane and fearlessly dart into the eye of conflict. Your mission? Outmaneuver, outgun, and outlast your opponents, making it to the finish line with your wings intact.
Sky Fighters' dogfighting sequences are nothing short of spectacular. The thrill of dodging enemy fire while aligning your crosshairs for that perfect shot is exhilarating. These intense sky battles will test not only your reflexes but also strategic planning and execution under pressure.
In conclusion, Sky Fighters is more than just another addition to the realm of flying games; it's an epic symphony of chaos and excitement draped in gorgeous sky-blue hues - A game truly crafted for those who crave the heady intoxication of high-octane action amidst the clouds. So strap in, gear up and ride straight into the heat of battle with Sky Fighters.
What are the best online games?