Skivl Tycoon Farm Magnat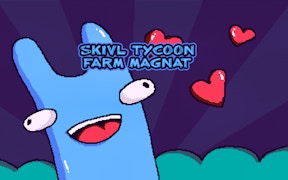 Skivl Tycoon Farm Magnat
Description
In Skivl Tycoon: Farm Magnat, you find yourself on a desolate planet with the duty to create your own farm from scratch. Hire assistants to aid in repairing your ship and venturing forth into new worlds. Engage in a thrilling city-building and management experience as you progressively advance through the game, unveiling its intricate features.
How to Play
Use your mouse or touchpad to select and interact with various elements within the game. Recruit helpers, plant crops, manage resources, and continuously upgrade your facilities for improved productivity. Your overall objective is to build a successful farm while concurrently repairing your spaceship to explore new frontiers.
Tips and Tricks
Budgeting is crucial in this game. Always ensure that you have enough resources before initiating upgrades or hiring more helpers. Pay close attention to the health of your crops and act promptly whenever there's an issue, so you don't lose progress due to disease or pest infestation.
Features
Engaging Gameplay: Build your farm from ground up on an uninhabited planet.
Intricate Management: Monitor the health of crops, manage resources, and hire help as per needs.
Progressive Upgrades: Upgrade equipment and building facilities for increased productivity.
Plethora of Contents: Discover new planets as you repair your spaceship providing an endless unique experience.
What are the best online games?