Skibidi Toilet Attack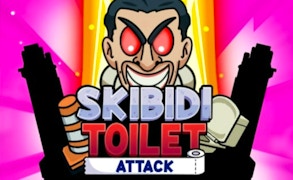 Skibidi Toilet Attack
From the enticing universe of action games comes a new contender that's quickly capturing players' attention: Skibidi Toilet Attack. This hilarious yet adrenaline-fueled gameplay promises both intense excitement and a hearty laugh, setting itself apart from typical sword games.
The premise of the game is simple – you're tasked with defending your toilet from an onslaught of enemies using nothing more than your wits and a toilet paper sword. While it may seem funny, don't let its humorous concept fool you. This clicker game brings a whole new level of excitement to the genre, demanding rapid-fire responses and strategic planning.
The heart of Skibidi Toilet Attack lies in its intuitive tap game mechanics. Your thumb becomes your ultimate defense weapon, furiously tapping away to orchestrate devastating attacks on the encroaching enemies. Each tap sends your toilet paper sword slicing through enemies, making for an exhilarating player experience.
This unique fusion of action and humor creates a refreshingly enjoyable game environment that offers endless entertainment. Whether you're an action game veteran or a newbie looking for something different from traditional sword games, this blend of frantic clicking and comical warfare will have you hooked.
In conclusion, Skibidi Toilet Attack is more than just a frolicsome title – it's a serious contender in the action game category filled with fast-paced gameplay and engaging challenges earning it an undisputed place among popular clicker games. So if you're in search of heart-pounding thrills mixed with sidesplitting humor, then put on your warface and get ready to defend your throne in Skibidi Toilet Attack!
What are the best online games?