Sieger Rebuilt Destroy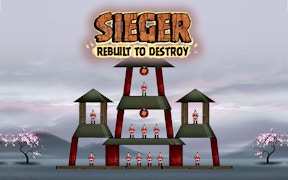 Sieger Rebuilt Destroy
Step into the shoes of a legendary siege master with Sieger Rebuilt Destroy, one of the most captivating battle games of our time. This game catapults you back in time, letting you partake in 32 of the most noteworthy sieges that molded the course of history over the past 2500 years.
The game is a masterful blend of physics puzzle and strategy, leaning heavily into its unique mechanics to offer an experience that is both challenging and rewarding. Like the finest building games, your mission is to wisely select which supporting blocks of the castle to obliterate. The cleverness lies not just in what you tear down, but also in what you choose to spare.
Sieger Rebuilt Destroy's brilliance shines brightest with its introduction of hostages and castle defenders. Your task isn't merely to crumble castles — also, you must eliminate all castle defenders while ensuring the innocents' safety—an enticing twist that compels strategic thinking and precise execution.
Adding another layer to this gaming experience are medals—Clear, Decicive, and Brilliant Victory—that stand as testaments to your prowess. The fewer shots you take, the better your chances at these coveted accolades. Not just limited to military glory, Sieger Rebuilt Destroy also indulges your ambitious side through loots hidden within castles – a nod to the exciting world of ball games.
In conclusion, Sieger Rebuilt Destroy is more than just another siege game; it's a thrilling journey back in time that tests your strategic mind and rewards your skilfulness with treasured medals and abundant loots.
What are the best online games?