Shooting Blocky Combat Swat GunGame Survival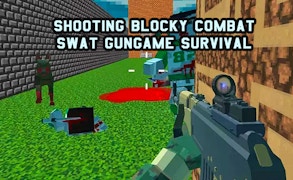 Shooting Blocky Combat Swat GunGame Survival
Welcome to the post-apocalyptic, pulsating, pixel-powered world of Shooting Blocky Combat Swat GunGame Survival. This game is a hair-raising cocktail laced with the best elements of gun games, zombie games, and irresistible pixel games. So strap up, gear up, and prepare for an electrifying dance of survival in the arena.
The first thing a gamer notices is its unique hybrid gameplay. It masterfully merges the adrenaline-pumping mechanics from the top battle games with a robust survival framework inspired by iconic survival games. The result? A seamless gaming experience that serves up bullets and brawn yet demands strategy and staying power.
In true survival tradition, this game hurls you right into the heart of conflict. But unlike generic gun games where your artillery is spoon-fed, Shooting Blocky Combat Swat GunGame Survival thrills with an arsenal of 18 guns. Each can be customized with camo and attachments, adding depth to your firepower and strategy both in solo or multiplayer modes.
The multiplayer facet of this game deserves a special mention. With five distinctive gaming modes spiced up with global matchmaking, it invites players to form alliances or rivalries with gamers worldwide. Offline mode too doesn't disappoint – boasting 40 levels filled with zombie hordes and trigger-happy chaos that more than satisfies your appetite for action.
In conclusion, Shooting Blocky Combat Swat GunGame Survival is not just another addition to your gun gaming library. It's an immersive experience that fuses elements from different genres into a visually pleasing pixelated package built on rich gameplay mechanics. This pixel-perfect battle extravaganza is here to redefine how we perceive gun-blasting survival games.
What are the best online games?