Shoot Your Nightmare: Halloween Special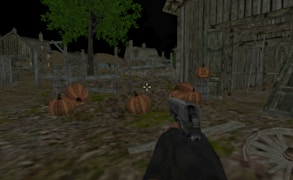 Shoot Your Nightmare: Halloween Special
Get your adrenaline pumping this spooky season with Shoot Your Nightmare: Halloween Special, a unique blend of chilling horror and intense shooting action. Tagged under the scary games, horror games, and gun games categories, this not-so-typical Halloween special is more shooter than a mere scare-fest.
The game immediately sets you up with four loaded guns right at the beginning, eliminating the need for weapon hunting, which is a breath of fresh air in the genre of gun games. The ample stash of ammo allows players to blaze their way through the levels, effectively merging elements of shooting games and horror games.
The real challenge lies not in battling spectral foes but in locating 13 Candy Bowls hidden across various levels. This fun twist transforms the game into a treasure hunt, escalating its excitement quotient, making it one of the most enticing scary games out there.
The not-so-scary Slimy Ghosts add an additional layer of intrigue on top of this thrilling hunt. Their unexpected appearances further intensify these suspenseful moments, reinforcing its stand as one of the top picks for horror games enthusiasts.
Shoot Your Nightmare: Halloween Special, as designed by Poison Games, successfully serves its bone-chilling cocktail with a generous splash of high-octane shooting action. This game goes beyond regular scary games or generic gun games and presents an immersive experience that serves both thrills and chills at each turn.
This Halloween Special's balanced blend of fear and firepower makes it one-of-a-kind in both the horror and shooting genres. A gift from Poison Games to all adrenaline junkies out there. Dive into this finger-numbingly thrilling game for an unforgettable gaming session!
What are the best online games?