Shoot The Balloon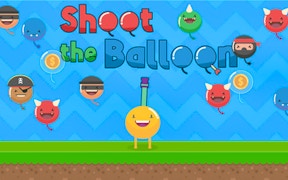 Shoot The Balloon
When it comes to shooting games that require a blend of skill, strategy, and precision, few stand out like Shoot The Balloon. This game captures the essence of what makes the genre fun and thrilling while adding its unique flair to keep gamers hooked. The game ingeniously taps into both ball games and Skill Games, creating an enjoyable hybrid that keeps you coming back for more.
The premise is straightforward - combat balloon waves with your arsenal of weapons. But don't be fooled; the simplicity disguises a game steeped in complexity and depth. You'll find yourself spiraling down a rabbit hole of strategy as you tackle each balloon wave, discovering new tactics each time.
The sense of progression is deeply satisfying. Earn in-game money, use it to unlock 6 characters, each with unique abilities and quirks doing much to aid you in your balloon popping quest. Additionally, the game offers 6 weapons,each catering to different playstyles and strategies, making every playthrough feel fresh and distinct.
The store feature intensifies this feeling by letting you purchase novel skins for your characters and weapons creating a unique aesthetic experience boosting replayability even further.
Shoot The Balloon forges a path of its own in the shooting genre by reimagining conventional mechanics with its innovative approach. It's a game teeming with moments of triumph, tension, frustration, and exhilaration - all hallmarks of an excellent shooting game.
Come dive into this riveting world that proves itself as an electrifying addition to the shooting genre while seamlessly weaving together elements from ball games and skill-based gaming.
To all fervent shooting enthusiasts out there - or anyone looking for a new gaming obsession - jump right into Shoot The Balloon . You'll be captivated from your first shot, I guarantee it!
What are the best online games?
TAGS