Shoot & Bounce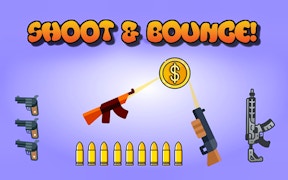 Shoot & Bounce
If you are an avid gamer with a penchant for shooting and action genres, then you will definitely enjoy 'Shoot & Bounce'. This game is a fascinating blend of the gun-games and the popular idle-games, promising hours of exhilarating gameplay.
The premise of Shoot & Bounce is simple yet compelling. Your main task is to shoot balls to increase their value, buy guns, merge them to upgrade and earn so much that you can complete all levels. But don't let this simplicity fool you. This game requires strategic planning and quick decision making to best manage your arsenal.
In this action-packed idle clicker merging game, choosing the right upgrades can significantly affect your performance. A quick-firing gun might seem enticing, but it might not pack enough of a punch for higher levels. Likewise, a high-damage gun could deplete your resources too quickly. It's a delicate balance that keeps the game interesting and intriguing.
Besides the engaging gameplay, Shoot & Bounce also boasts stunning visuals and an immersive soundscape, which further enhance your gaming experience. These factors combined make this game an absolute must-play for lovers of shooting games.
In conclusion, Shoot & Bounce is an exceptional offering in the shooting-action genre that skillfully combines the thrill of gun-games with the addictive mechanics of idle-games. It will keep you hooked with its mesmerizing gameplay and endless strategic possibilities. Happy shooting!
What are the best online games?
Tags