Sheep Farm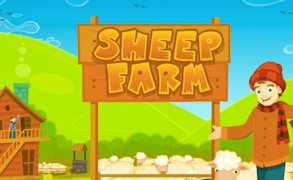 Sheep Farm
Immerse yourself in the vibrant world of farm games with the compelling Sheep Farm, an absorbing adventure that marries the charm of animal games with the thrill of management games. Step into Ben's boots and undertake the riveting task of operating a bustling farm, made even more riveting by a melodious symphony of baa-ing sheep.
Every day brings fresh challenges - feed your flock, restock their feed, purchase new sheep, or part ways with old ones. Each activity is as engrossing as the last, providing an authentic taste of farm life. But this game isn't just about tending to animals - it's also about managing an ecosystem that includes a wool cleaning unit, a yarning unit, and even a dyeing unit. Experiencing every step from shearing to dying enriches your gaming experience, taking traditional farm games to new heights.
The market dynamics add another layer of complexity - selling products, procuring items for your farm; every decision affects your game narrative. Develop strategic skills as you learn to balance supply and demand, and watch as Ben's venture flourishes under your astute guidance.
Stimulating yet relaxing, Sheep Farm doesn't just capture the essence of animal and farm games; it sets a new benchmark for them. It's a symphony of perfectly orchestrated elements – it's not just about raising sheep but raising the bar for immersive management-driven adventure games.
Engage in this gripping journey today and test your mettle running a Sheep Farm - will you rise as an adept shepherd or falter amidst the chaos? Hit install now and let's find out!
What are the best online games?