Sharkosaurus Rampage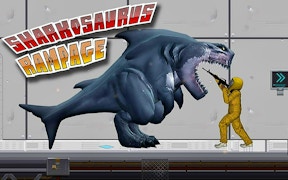 Sharkosaurus Rampage
Unleashing a reign of terror from the heart of the California Redwoods, Sharkosaurus Rampage strikes a unique chord in the gaming scenario of dinosaur games, sharks games, battle games, and escape games. Imagine a cocktail of velociraptors' ferociousness blended with the hunter's instinct of the Great White Shark. Yes, you're the monstrous fusion!
This action-packed game plunges you into an intense, heart-thumping underground realm wherein you play as Sharkosaurus, a devastatingly powerful creature. Your mission? Escape the clutches of mad scientists looking to misuse your DNA for dubious exploits. The storyline is intricately woven and guaranteed to pull at your adrenaline strings.
The real drawcard is the intricately designed battle features. The game pays homage to classic battle games by offering thrilling battles against formidable opponents such as armored vehicles, military cars, jet-pack dudes, and even colossal dragon monsters. Each enemy poses unique threats and challenges that will test your mettle and gaming skills time and again.
An interesting soupçon is added to this escape game with the inclusion of strategic elements. Activating doors, elevators, and stairs require clever strategies, making it more interactive and mentally stimulating than mere hack-and-slash games.
More than just another addition to dinosaur games or shark games category, Sharkosaurus Rampage dangles a tantalizing question: Will you escape or become another specimen in a container waiting for its gruesome fate? This intense blend of fear and courage sets it apart in the escape games genre.
Sharkosaurus Rampage, with its spectacular visuals, immersive gameplay mechanics, engrossing narrative, coupled with a daunting array of enemies makes it an action-packed joyride you wouldn't want to miss out on!
What are the best online games?