Shark Attack Game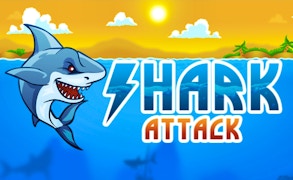 Shark Attack Game
Dive deep into the thrilling world of marine life with the Shark Attack Game, a captivating entry in the adrenaline-charged realm of sharks games. This immersive action game provides a fascinating exploration of a shark's existence, skillfully combining aquatic adventure with a survival challenge that will undoubtedly engage seasoned gamers and novices alike.
The premise is simple yet enticing: you're navigating the broad expanses of the ocean, assuming the role of a predatory shark. Your primary objective is to hunt other marine creatures like fish, crabs, octopuses, and starfish. The game brilliantly simulates natural undersea dynamics, striking an intricate balance between health, air, and hunger to ensure an authentic experience.
One aspect that sets Shark Attack Game apart from other sharks games are its engaging fun elements. You're not just avoiding traditional underwater threats like jellyfish and fishing nets; you'll also be dodging deadly bombs! On top of that, you get to assert your dominance over human interference by attacking boats, ships, and daring divers venturing into your territory. It's a wild underwater ride that keeps you on your fins at all times!
The Shark Attack Game also provides power-ups for boosting health, energy levels and speed. It introduces an element of strategy as players must decide when to utilize these power-ups for maximum benefit during gameplay.
In conclusion, the Shark Attack Game brings together all elements essential for an unputdownable gaming experience - excitement, strategy, survival aspects and cool power ups. It is guaranteed to satisfy gamers on a lookout for high-quality sharks games, offering not just mindless action but also intelligent gameplay. Dive right in!
What are the best online games?
TAGS