Scary Monsters Coloring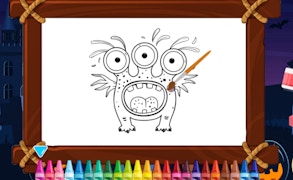 Scary Monsters Coloring
Get ready to dive into the vibrant and exciting world of Scary Monsters Coloring, a one-of-a-kind free online drawing game that will captivate children's imaginations and artwork skills. This is no ordinary coloring game, it's a unique blend of creativity and fun that defines the genre of Games for Kids.
In Scary Monsters Coloring, kids are presented with a myriad of eight different engaging pictures that they must color as quickly as possible to earn an impressive score. This not only stimulates their artistic flair but also develops their speed and precision. The thrill of racing against the clock to create a stunning piece of art adds an element of suspense, making Scary Monsters Coloring stand out among other coloring games.
With 23 diverse colors at their disposal, kids can let their imagination run wild, experimenting with different color combinations and bringing their monstrous masterpieces to life. From fiery reds to cool blues, there's no limit to what your child can create in this addictive drawing game.
Scary Monsters Coloring not only offers enticing gameplay but also flaunts an incredible feature - the ability to save the colored image. This invaluable function gives children a sense of accomplishment, allowing them to showcase their creativity and share it with others. It's a brilliant way to capture memories and chart your child's progression through this absorbing monster game.
In conclusion, Scary Monsters Coloring is truly an interactive playground for young minds. Its gripping gameplay, colorful graphics, and innovative approach make it a must-play in the genre of Games for Kids. Whether your child is fascinated by intricate patterns or intrigued by mythical creatures, they will find countless hours of fun exploring this excellent drawing games. So why wait? Dive into the fantastical world of Scary Monsters Coloring today!
What are the best online games?