Santa T-Rex Run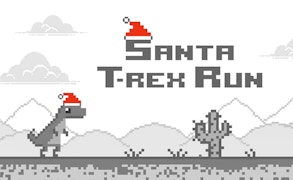 Santa T-Rex Run
Unleash your inner beast with the incredible Santa T-Rex Run, an addictive addition to the world of running games. Set in a whimsical winter wonderland, this game masterfully combines elements from both dinosaur games and Christmas games, offering a unique gaming experience that is thrilling and engaging.
You control a charming T-Rex, often found gallivanting across a desert, adorably dressed in Santa attire. The pixel art-style of this cute dinosaur is nothing short of spectacular, blending prehistoric design elements with a classic yet enticing grayscale theme. But don't let its adorable appearance fool you. This game is far from child's play. The tagline "Easy to play, hard to master" couldn't be more apt for this high-stakes adventure.
The central gameplay mechanic involves precisely timed jumps over an array of cacti and plants that dot your path. Sounds simple? Think again! What gives Santa T-Rex Run an edge over other running games is the unpredictability of its background pace. It accelerates and decelerates sporadically, forcing you to adapt on the fly and keep those reflexes razor-sharp!
Designed with user convenience in mind, the game offers an easy fullscreen capability enhancing your gaming experience, making those intense gaming sessions all the more immersive. So if you're up for a fun-filled adventure involving Santa-clad dinosaurs (and who wouldn't be?), join the ranks of gamers worldwide who have caught T-Rex fever and dive into the exhilarating world of Santa T-Rex Run.
Remember, it's not just about survival here. It's also about how high you can score! Are you ready to jump into action? Your pixelated prehistoric friend awaits.
What are the best online games?