Santa Run Game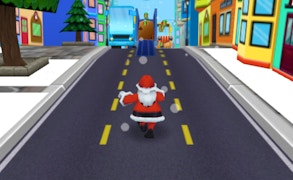 Santa Run Game
Welcome to an adrenaline-infused sprint with our favorite holiday hero in the Santa Run Game. This uniquely festive addition to the running games genre brings a twirl of tinsel to your screen as you help deliver joy to homes worldwide.
Picture Santa sleigh-less and dashing down a bustling city street. Your goal? To avoid obstacles and collect as many points as possible. This action-packed game, one of the most engaging Christmas games on the market, effortlessly blends the thrill of arcade running games with the warmth and charm of the holiday season.
The gameplay in Santa Run Game is challenging yet straightforward. As Santa, your role is to glide through the decorated streets, elegantly dodging and ducking through a chaotic labyrinth of festive clutter. The touch controls are smooth and responsive, providing just the right level of challenge without ever feeling too difficult.
The game's design further enhances this exciting experience. The visual aesthetic is bold and vibrant, filled with stunningly rendered Christmas-themed landscapes that make each run feel akin to a spirited sleigh ride. The score composition carries all the joyful tunes we associate with Christmas, keeping your heart pounding and maintaining an exhilarating pace throughout.
In conclusion, Santa Run Game is more than just another entry in the running games genre; it's a lively burst of holiday cheer perfect for those seeking a yuletide thrill on their gaming platform. With its captivating graphics, catchy music, and engaging gameplay mechanics, it's certainly not just for Christmas; It promises year-round action-packed fun without losing its distinct holiday charm.
If you're seeking high-octane action games or looking for something a little different this festive season, don't hesitate to check this out; Santa Run Game will certainly fill your stockings up with fun!
What are the best online games?