Run Race 3D 2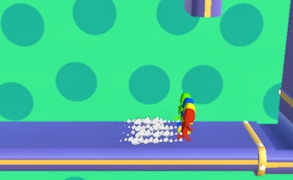 Run Race 3D 2
Welcome to the exhilarating world of Run Race 3D 2, a game that flawlessly combines the adrenaline rush of running games with the satisfying simplicity of clicker games. As a free game dedicated to parkour, Run Race 3D 2 will have you relentlessly competing with other players while experiencing the euphoric sensation often associated with extreme sports.
In this action-packed game, you'll find yourself leaping from wall to wall, scaling ropes, and sliding at breakneck speeds. The fast-paced gameplay demands your full attention as you tumble, soar higher than ever before, cling onto, and swing from horizontal bars. Remember, there's no room for hesitation—Do not stop!.
The controls in Run Race 3D 2 are intuitive and user-friendly. With a simple click of your mouse or a swift spacebar press, you'll be performing gravity-defying jumps and navigating through complex obstacles. This seamless integration of clicker controls into an already riveting running game amplifies the overall gaming experience.
Parkour has never been this immersive or enjoyable in a video game setting. The sense of competition is palpable as you strive to outdo your rivals in every race. Whether it's climbing faster, jumping higher or swinging further—every action counts in deciding who emerges victorious.
In sum, Run Race 3D 2 delivers an unforgettable gaming experience that expertly fuses elements of running games and clicker games. It provides just the right level of challenge while maintaining an engaging atmosphere filled with pure parkour fun. Dare yourself not to stop; dare yourself to play Run Race 3D 2!
What are the best online games?