Run Dino Run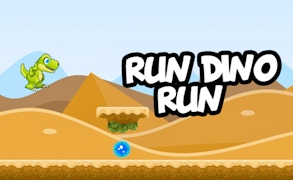 Run Dino Run
Description
Experience the thrill of being a mighty dinosaur racing against time in Run Dino Run. This exciting game takes you into a world where you are the last hope for your species. You must outrun a rapidly changing environment, leaping over obstacles and avoiding predators. This is an exciting reimagined version of Chrome's original offline Dino runner. A truly thrilling action-adventure game where you can either outrun extinction or remain a fossil.
How to play
To play Run Dino Run, you need to control your dinosaur using the arrow keys or touch controls. The main objective is to outrun the deadly environment and dodge any obstacle that comes your way. As you progress in the game, the speed increases – making it more challenging and addicting. Collect coins along the way to boost your score as you sprint to survival.
Tips and Tricks
In Run Dino Run, timing is everything. Make sure to time your jumps accurately in order to avoid obstacles. Keep an eye on what's coming up ahead - anticipating hazards is crucial for survival. Don't forget about coins, they may seem risky at times but they help boost your scores dramatically!
Features
The following are some of the notable features of Run Dino Run:
Fascinating prehistoric themes with stunning graphics.
An intuitive control scheme that's easy to learn, yet hard to master.
Rapidly changing environments keep gameplay exciting and unpredictable.
A variety of dinosaurs you can play as, each with its own unique abilities.
Challenging obstacles requiring quick reflexes and smart strategies.
What are the best online games?