Rule Your City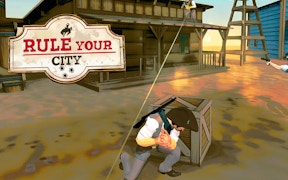 Rule Your City
Welcome to a relentlessly exciting journey in a world of crime and justice, reserved only for the most daring gamers. Rule Your City presents players with an exhilarating cross between gun games, battle games, sniper games, and the all-time classic - gangster games.
This game plunges you headfirst into the thrilling frontline of urban warfare, steeped in the gritty ambiance of an old western landscape. As you roam through a meticulously crafted cityscape at the break of dawn, your trusty assault rifle always at hand, you get to decide whether you're a hero or villain. How? You have a world full of bad guys skulking around, eager to break into unsuspecting homes and make away with hard-earned valuables. It's up to you to stop them...or join in on the action.
In Rule Your City, your weapon is as essential as your wits. The game's core mechanics revolve around tactical strategy, blending perfectly with high-octane action sequences. It's not just about being quick on the draw; it's about outthinking and outmaneuvering your enemies.
This game offers an immersive experience reminiscent of classic gangster games. However, it introduces innovative elements that elevate it beyond the typical run-and-gun routine present in many gun games. Its scoring system rewards precision over mindless firing making it appealing to fans of sniper games.
In conclusion, whether it's the adrenaline rush from intense firefights or the strategic challenge posed by rival gangs eager to rule the streets – Rule Your City has it all. If you've been looking for a combination of battle games, sniper challenges, and gangster-style narrative – prepare yourself because Rule Your City delivers exceptionally.
Saddle up, lock and load your trusty rifle because in Rule Your City - dawn is just the beginning.
What are the best online games?