Rope Help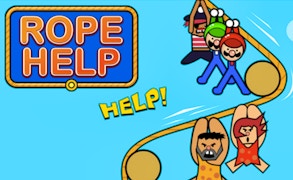 Rope Help
Immerse yourself in the thrilling world of Rope Help, an innovative release in the realm of Action genre, a perfect blend of Skill Games and Hyper Casual Games. Drawing inspiration from the popular genre of Stickman Games, this game ropes in electrifying action, strategic skillset and casual game play that is both engaging and addictive.
The game premise revolves around a daring rescue mission, saving stickmen from a looming fire disaster with nothing but a trusty rope. But don't be fooled! This is no ordinary rope-swinging game. Each level presents unique and challenging puzzles, intelligently designed to test your skill and acumen, simultaneously ensuring you are entertained throughout your gameplay.
Rope Help smartly incorporates various obstacles along the way, effectively escalating its intensity notch by notch. These hurdles prove to be both a conundrum to overcome and a thrilling addition to this versatile action game.
The command over your rope is the touchstone for success in this game. The better you control it, the more proficient you become at rescuing the helpless stickmen from their fiery fate. It requires consistent practice and strategic planning- an ultimate testament to one's gaming skills.
In conclusion, Rope Help stands out as a brilliant fusion of an action-packed escapade with hyper-casual gaming experience. Its unique concept of employing 'rope' as a savior from 'fire', challenging puzzles and obstacles render it an engaging and riveting play in the field of Stickman games, making it highly recommended for every skilled gamer out there! Unleash your strategic prowess with Rope Help and dive into this joyous adrenaline rush!
What are the best online games?