Rookie Bowman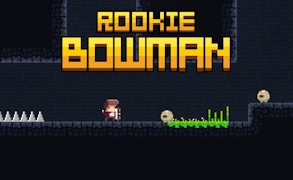 Rookie Bowman
Step into the haunted caverns and beast-ridden realms of Rookie Bowman, an epic Action pixel game that skillfully blends adrenaline-filled combat, cunning exploration and a gripping narrative. This captivating monster game transports players into a pixelated world that redefines the genre with its innovative gameplay mechanics and immersive storyline.
In Rookie Bowman, you don an adventurer's boots, shouldering the immense responsibility of locating a mystical bow hidden deep within a treacherous cave. The game throws you into the heart of danger and mystery from the first frame, with challenging boss fights at every corner, each more fearsome than the last. The meticulous art of pixel games is in full display here as each monster springs to life with stunning detail: every scale, fang and fiery breath rendered to perfection.
But this action-packed monster games experience isn't just about slaughter - it's also about discovery. Uncover secret rooms laden with precious collectibles, hidden amidst swirling darkness and lurking dangers. These add an extra layer of suspense and excitement to your journey, as you never quite know what treasure - or terror - awaits your next step.
Rookie Bowman is far from a mindless hack-and-slash romp; it's a masterful adventure that rewards strategic thinking and brave exploration in equal measure. The allure of uncharted territories sweetened by the prospect of exclusive collectibles makes for a tantalizing motivation to bravely face off against fiendish bosses.
In conclusion, Rookie Bowman delivers action-packed gameplay in spades while successfully capturing the authentic essence of beloved pixel games. It's not just another game—it's an unforgettable adventure filled with monsters, mysteries and epic encounters that will leave every action aficionado yearning for more.
What are the best online games?
Tags