Ronaldo Kick 'n' Run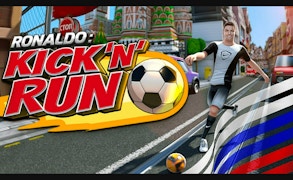 Ronaldo Kick 'n' Run
Step into the shoes of the legendary Cristiano Ronaldo as you conquer the crowded streets with dexterity in the intuitively designed action game, Ronaldo Kick 'n' Run. This game transcends the traditional boundaries of soccer games, blending elements of running games, and ball games.
Ronaldo Kick 'n' Run offers an adrenaline-fueled journey that would typically belong in the realm of superhero narratives. Yet given it involves one of the most successful footballers of our time, it blends perfectly with Ronaldo's legacy and larger-than-life persona.
No longer confined to a lush green football field, Ronaldo faces new challenges on teeming city streets. In this incredible combination of football games with a running style arcade experience, familiar obstacles are replaced with train cars, awnings, gates and busy foot traffic.
The game amplifies realism by incorporating ball dribbling even as you dodge urban obstacles. The difficulty level is amped for sure but remember, we are emulating a man who has made a career out of achieving the impossible.
The allure of Ronaldo Kick 'n' Run lies not just in its unique blend of genres. It cleverly brings out Cristiano Ronaldo's thirst for glory in an entirely new avatar. You could almost feel his passion and drive while navigating those perilous city streets with just his fancy football shoes and undying determination.
In conclusion, whether you are an action gamer or a soccer fan, or someone who enjoys challenging running games or even engaging ball games – there is something for everyone in Ronaldo Kick 'n' Run. Its vibrant gameplay gets your pulse racing while its uncanny realism leaves an indelible impression on your gamer's heart. Intense action? Check. Immersive gaming experience? Check. Boundless fun? Definitely check!
What are the best online games?