Roilaw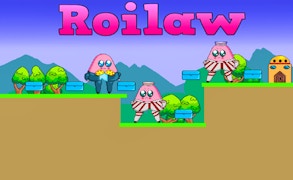 Roilaw
Description
In Roilaw, embark on an electrifying journey as a lawyer in this captivating 2D platformer. Your mission is to gather all evidence files to build a case for the prosecution while skillfully avoiding lurking criminals and deadly obstacles. Spanning eight exciting levels, the game intensifies as you progress. Navigate through perilous spikes, dreaded saws, and make your way to the court door to advance.
How to play
Control your lawyer using either 'WASD' or 'Arrow' keys. To execute a double jump, simply press the 'W' or 'Up' arrow key twice in succession. Make sure you collect all evidence files present around each level before successfully reaching the court door for level progression.
Tips and Tricks
Mastering the double jump is crucial for navigating through higher-level hazards. Moreover, strategic planning of your routes can minimize encounters with criminals. Remember that some evidence files are cleverly hidden so keep your eyes open.
Features
A high-octane 2D Platformer with intriguing gameplay
Unique adventure with eight challenging levels
Innovative mechanics and hazards for increased fun
Engaging storyline intertwining law and adventure
Diverse controls for unrestricted movement within the game world
What are the best online games?