Road Of Rampage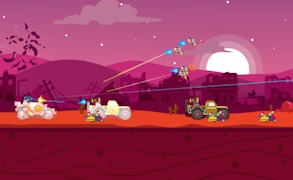 Road Of Rampage
Welcome to our detailed review of the exhilarating shooting game, Road Of Rampage. A unique blend of gun games and car games, this heart-stopping adventure sets players on a wild ride through a post-apocalyptic wasteland populated by ferocious road machines.
The premise? It's simple yet thrilling. As the player, you find yourself in an unforgiving world where you must shoot down and annihilate all enemies that dare to cross your path. But what makes this shooter stand apart is its seamless integration with the elements of car games, making it one-of-a-kind within the genre.
Road Of Rampage boasts explosive gameplay that will keep you on the edge of your seat. Each menacing machine encountered is unique, meaning no two battles are ever the same. The intensity mounts with every passing moment as the relentless enemies ratchet up their assault, providing a relentless challenge for even seasoned gamers.
The game brilliantly combines strategic planning with quick reflexes. You must not only decide which upgrades will transform your ride into the most powerful war machine but also deftly maneuver this metallic beast on the battlefield.
One of the standout features is the impressive upgrade system. As you progress through Road Of Rampage, collecting war spoils from fallen machines, you can significantly improve your ride. Enhanced armor, improved weaponry, speed boosts - customizing your vehicle bolsters your firepower while also adding a tactical element to the gameplay.
In conclusion, Road Of Rampage is more than just another addition to gun games or car games—it's an adrenaline-fueled hybrid that promises hours of riveting gameplay and strategic planning. If you're ready to rev up your engine and embark on a tumultuous journey through a post-apocalyptic wasteland - look no further than Road Of Rampage.
What are the best online games?