Rebel Forces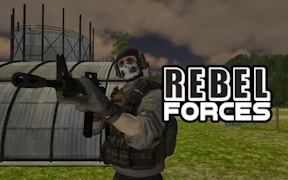 Rebel Forces
Step into the exhilarating world of Rebel Forces, a fiercely competitive shooting game, where survival instincts and lightning-fast reflexes are key. This isn't your average run-of-the-mill gun game; this is war.
Embedded within the red-hot genre of battle games, Rebel Forces sets a high bar for immersive gameplay. The game brandishes an impressive six maps, each with its unique characteristics and battleground nuances. From the labyrinthine sprawl of urban warfare to the deceptive calm of pastoral landscapes, your strategic prowess will be put to the test.
In gameplay, Rebel Forces isn't just a blind shootout—it's a complex weave of strategy, survival, and raw skill. Each of the three game modes offers a distinct approach to this thrilling shooter. Whether you're playing as a deft sniper in sniper games mode, leading your team to victory in team deathmatch, or thriving solo against all odds in survival mode, every step could be crucial.
The icing on the cake is undoubtedly the intriguing triple treat room options that let you double your speed, take double leaps in jump height or fuel up with double HP—a rare feature in survival games. These game-changing bonuses can turn the tide of battle at any given moment.
If you've been searching for a game that blends the adrenaline-fueled thrill of war games with strategic depth and high-paced action, Rebel Forces should be next on your play list. Prepare yourself for an unforgettable journey into warfare where every shot counts.
Dive headfirst into this unyielding world—a relentless rollercoaster ride that is guaranteed to keep you hooked. In this crucible of chaos and tactics— victory belongs to the most resourceful. So grab your gear, strap on your helmet and get ready to join the Rebel Forces!
What are the best online games?