Rebel Attack Shooter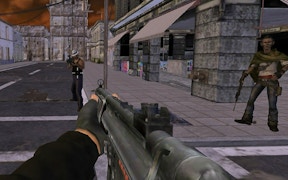 Rebel Attack Shooter
Welcome to the exhilarating world of Rebel Attack Shooter, a captivating blend of sniper games, battle games, survival games, and gangster games. With a rich array of missions and an impressive arsenal of weapons at your disposal, this game will leave you glued to your screen for hours.
As one of the most enthralling gun games on the market today, Rebel Attack Shooter combines the intensity of war games with the thrill and precision of sniper games. Whether you're engaging in pulse-quickening battles across various missions or navigating through treacherous terrains for survival, the game delivers on all fronts.
The game affords you an extensive selection of weapons, unlocking a world where strategy meets action. Whether you favor a straight-up gunfight or prefer to take down enemies from a distance with a sniper rifle, Rebel Attack Shooter has got you covered. Stand out as a sharpshooter in this heart-thumping warzone.
Rebel Attack Shooter isn't just about guns and glory; it's also about survival. As one of the most dynamic survival games out there, players are pitted against each other in a high-stakes race to be the last man standing. Survival isn't only about shooting; it's also about strategy, making each decision as significant as your next bullet.
If you're looking for a game that merges the ruthless world of gangster games with the high-speed action of battle games, look no further than Rebel Attack Shooter. Each mission pulls you deeper into this unforgiving world where only the strongest survive.
In conclusion, Rebel Attack Shooter is more than just another entry in gun games or sniper games - it is an immersive landscape where every bullet counts and every mission is another step towards survival. Gear up for some adrenaline-fueled action because in this warzone, it's kill or be killed.
What are the best online games?