Raktoo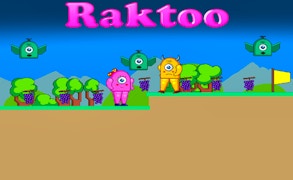 Raktoo
Description
In Raktoo, you find yourself in a delightful 2D platformer. Navigate through intricate levels, collecting coveted black grapes along the way. The game's environment is filled with menacing monsters and treacherous obstacles that you must skillfully dodge to ensure your survival. As you progress, the difficulty escalates, offering a challenging gaming experience. Make it to the Exit door to advance to successive levels.
How to play
Mastering Raktoo requires dexterity and quick reflexes. Use "WASD" or "Arrow" keys for movement. For players looking for an extra boost, simply press "W" or the "Up" arrow key twice for a double jump. This can help evade enemy attacks and traverse tricky terrains. Reach the Exit door to progress through the game and increase your difficulty level.
Tips and Tricks
Stay vigilant of your surroundings in Raktoo. While collecting black grapes is important, avoiding enemy monsters is crucial for survival. Making full use of the double jump can help overcome difficult obstacles and evade enemies. Always try to predict enemy movements and plan your route accordingly.
Features
8 Challenging Levels: Raktoo takes you on a journey with increasing difficulty
Cute Graphics: Enjoy pleasing visuals while facing monstrous challenges
Immersive Gameplay: The game offers engaging platform mechanics with an array of obstacles
Dangerous Enemies: face off against both ground-based and flying adversaries throughout your adventure
What are the best online games?