Railway Runner 3D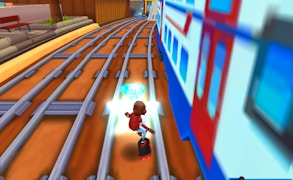 Railway Runner 3D
Swiftly strap yourself into the exhilarating world of Railway Runner 3D, a standout amongst other running games currently stealing gamers' attention worldwide. This adrenaline-filled skateboard game marries non-stop action with skillful gameplay, cementing itself as one of the must-play skill games. Prepare for an immersive chase through 3, 4, and even 5 lane tracks, a feat unprecedented in comparable titles.
What sets Railway Runner 3D apart is its unique concept - a thrilling blend of traditional endless running and competitive multiplayer modes. Toss in some gnarly skateboarding action, and you've got yourself one potent cocktail of fun. Unquestionably, this game has successfully raised the bar for what to expect from fun games.
The fast-paced gameplay keeps your heart pounding as you navigate your avatar over tracks teeming with obstacles; your skills are constantly put to the test. The added variety of multiple running lanes adds a fresh layer of complexity that redefines the genre's standard. This feature alone gives Railway Runner an edge over other skateboard games, making it engaging and exciting around every corner.
In conclusion, Railway Runner 3D is a finely crafted fusion of speed, skill, competition and pure joy! It sets new standards for running and skateboard games alike while remaining deeply satisfying to play. If you're searching for an action-packed skill game that offers more than repetitive button-mashing, this gem is worth the download.
Your next gaming obsession awaits in Railway Runner 3D - all that's left is for you to grab your virtual skateboard and hit the rails!
What are the best online games?