Rage Road Online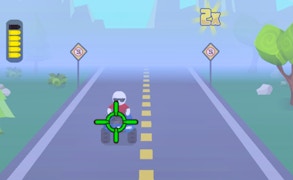 Rage Road Online
Take the reins, saddle up, and prepare to set your sights on the most thrilling car chase and shooting game experience yet with Rage Road Online. The wild west has never seen action like this before. If you've got the grit and nerve for adventure, this explosive game from kiz10 will undoubtedly fan your fiery gaming passion.
Rage Road Online flawlessly merges the thrills of car games, driving games, and gun games into one vivid, heart-pounding experience. This is not for the faint-hearted! Your pulse will race as you steer your vehicle through dangerous terrains, with enemies hot on your tail. The ultimate aim? Outrun and outgun your foes in nerve-wracking high-speed chases.
Dodge bullets, execute perfect drifts, and meticulously time shots to destroy enemy vehicles. But it's not all about gutsy driving and sharpshooting; strategic prowess is equally prized here. Collect coins on your rampage to unlock an array of unique hat costumes, each packed with its own special abilities that give you an edge in this wild chase.
If you're excited by the exhilarating blend of driving and shooting games – this ultimate fusion that sees you becoming both a demon behind the wheel and a crack shot from the passenger seat – then Rage Road Online is a must-play. Remember! At kiz10.com, they don't just boast of a great collection of free-to-play games with rewards; they ensure an adrenaline-rushing trip down memory lane.
In the landscape of online gaming in which thrills are paramount, Rage Road Online stands out as a captivating beacon beckoning all daredevils out there! So gamers, get ready to clutch at danger's throat and live life in the fast lane with Rage Road Online!
What are the best online games?