Ragdoll Physics Push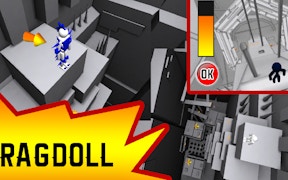 Ragdoll Physics Push
Description
"Ragdoll Physics Push" takes you on a fun-filled, thrilling adventure through a virtual 3D world. In this action-packed game, players navigate their chosen ragdoll character - from an ordinary man to a centaur or stickman, navigating through various challenging levels. The primary objective is to push and throw the ragdoll across the landscape to collect coins and discover hidden treasures. The game combines ragdoll physics simulation with engaging gameplay mechanics for an unforgettable gaming experience.
How to play
Moving your ragdoll character is easy - just push or throw them in the direction you want them to go. Aim for coins and treasures as you progress through each level - three hidden treasures are waiting in every stage! While collecting points and discovering hidden riches, players must also adapt to the unique physics of each ragdoll character. The ability to share results on Facebook adds an extra layer of competition.
Tips and Tricks
To excel in "Ragdoll Physics Push", explore each level thoroughly as you never know where a treasure might be hiding. It's key to understand the unique physics of your chosen character as they all move differently. Sharing your results on Facebook can also earn you bonus achievements!
Features
Multiple Characters: Choose from various characters including a normal man, giant, stickman or centaur.
Ambient Soundtrack: Credits go to DJ-M-Power-Brakes for excellent background music that elevates the gaming experience.
In-Game Achievements: Strive for success with numerous achievements awaiting to be unlocked.
Social Sharing: Players can share their scores and achievements directly on Facebook.
What are the best online games?