Hero 4: Slice Enemies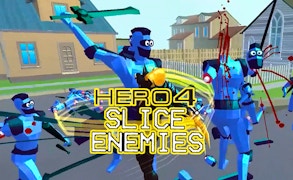 Hero 4: Slice Enemies
There are many qualities that make a hero, but one can only wonder which of them applies to the main character of Hero 4: Slice Enemies. You are apparently a yellow entity covered in spikes running through a small town in the middle of nowhere. The problem is that it is populated by aggressive blue figures equipped with a variety of weapons out for your blood. This is a 3D hack-and-slash game where you need to cut your way through these enemies in order to stay safe and maybe make the town safer as a result. One can only hope that the context makes your actions heroic.
About Hero 4
The main reason people play games is to unwind and relax and sometimes let loose on some digital targets. This game facilitates that in a pretty visceral way. In a way, the game covers the most physical aspects of a standard action movie. That means you can get down to business as soon as you boot up the game. With such an overpowered character, you'll feel unstoppable as you cut through crowds of armed blue soldiers and the occasional giant. Just try to have a little bit of finesse in your wild swinging and jumping.
How to Play
Hero 4 is a hack-and-slash game that is very easily played with the keyboard and mouse. Make sure you get used to the somewhat stilted movements.
Controls
Mouse Cursor - Look Around
Left Mouse Button - Attack/Throw Enemy
Right Mouse Button - Leap Attack
Mousewheel - Spin Attack
W/Up Arrow - Move Forward
S/Down Arrow - Move Backward
A/Left Arrow - Move Left
D/Right Arrow - Move Right
Shift - Sprint
Spacebar - Jump
F - Grab Enemy
As the Hero of the story, you need to live up to the expectation of slicing. Each level puts you into an open small-town environment whereupon enemies will spawn from all sides and lock onto your location. Your goal is to use your attacks to cut through all the enemies until you've cleared out the town, with the number of enemies being counted in the top left corner of the screen. Once you've sliced them all, you can move on to the next level. Your health is indicated by a heart in the bottom left corner and if it empties, you'll need to try the level again.

Tips and Tricks
The hero may be very tough, but he's not invincible so make sure you stay mobile. Enemies will come in ways of melee attacks that will surround you while ranged enemies attack from afar. To avoid draining your health too quickly, use the spin and leap attacks to break out of crowds and focus on taking out the ranged attackers first.
Game Details
Developer: GoGoMan
Platforms: Web Browser (PC and mobile)
Languages: English and Russian
Gameplay Footage
FAQs
What is the main character in Hero 4?
Though much of the story of the game is up to interpretation, it's believed that the hero is an altered beng who is fighting against military forces. With the character's appearance and power, there are parallels between this game and the Prototype game series.

Games similar to Hero 4
Considering the main things that you're doing in this game, you can find it in the Fighting and Sword Games categories on GamePix. Hero 4 is actually part of a series of games including Hero: Telekinesis, Hero 2: Super Kick, Hero 3: Flying Robot, and Hero 5: Katana Slice.
Hero 4: Slice Enemies belongs to Fighting and it is often associated with Sword Games and Survival Games. This game has received 5518 votes, 5141 positive ones and 377 negative ones and has an average score of 4.6.
It is a game played in landscape and it's playable on Desktop on gamepix.com. This game has been published on 2022-01-27, and updated on 2022-01-27.
What are the best online games?