Ragdoll 2 Player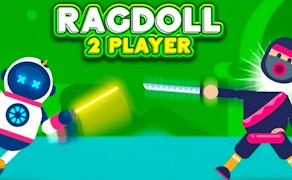 Ragdoll 2 Player
If you're in search of pulse-pounding battle games that can be enjoyed solo or with a friend, look no further than Ragdoll 2 Player. This exciting action game injects an electrifying dose of adrenaline straight into your gaming experience, ensuring that every moment is filled with the thrill of battle.
What sets Ragdoll 2 Player apart from other stickman games is its mix of simplicity and riveting gameplay. You start by selecting one ragdoll from an array of characters, each with its unique charm. The goal? To stay alive as long as possible while engaging in epic duels with enemies that aren't willing to go down without a fight. Thanks to the game's intuitive controls and mechanics, even newcomers to the action genre can jump right in and enjoy this exhilarating ride.
One of the most applauded features of Ragdoll 2 Player is the 2 player mode. This mode lets you square off against a friend in intense battles that truly test your reflexes and strategic thinking. Nothing beats the feeling of claiming victory against your buddy after a hard-fought match. The 2 player mode adds an extra layer of enjoyment to the game, making it a standout title not just among stickman games but also within the broader category of multiplayer games.
In conclusion, Ragdoll 2 Player is a shining gem in the realm of action-packed battle games. Its simple yet engaging gameplay, coupled with the option to battle against friends, makes it an absolute must-try for fans of stickman games or anyone looking for their next multiplayer obsession.
What are the best online games?