Rabbids Volcano Panic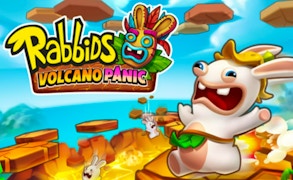 Rabbids Volcano Panic
If you've ever excitedly searched for animal games, survival games, or skill games, then the explosively entertaining Rabbids Volcano Panic is your hot ticket to euphoria. This thrilling game, accessible on nano.ubisoft.com, sends players on a perilous journey across a crumbling island teetering on the edge of total destruction by a gargantuan volcanic eruption.
You're not just running for dear life against the lava racing after you, but also against other panicking Rabbids who are every bit as desperate to survive as you are. In this high-stakes, high-suspense environment, it's not just about being speedy or skillful - it's about being cunning! You have the power to trap other players and send them tumbling into the fiery abyss below while you vault ahead to safety.
Rabbids Volcano Panic isn't just another run-of-the-mill survival game. It forces players to engage their strategic skills in a highly competitive arena that keeps your heart pounding with the relentless tension of an action movie. The game brings together the cuteness of bumbling Rabbids with the terror of imminent doom that's so unique to animal and survival games.
What sets this game apart are the bonus items scattered across your path - pick them up and gain an edge over your fellow players! It's not just a race against time, but also against each other. Your tactical decisions could mean the difference between victory and fiery defeat - making each gameplay scenario feel fresh and exciting.
In conclusion, if you're in search of a compelling mix of strategy, skill, action, and survival wrapped in an adorable package of frenzied Rabbids trying to outlive a volcanic apocalypse - then look no further than Rabbids Volcano Panic. It's time to show those furry critters who is boss by claiming victory amidst chaos! Dive into this explosive treat at nano.ubisoft.com today!
What are the best online games?