Protect The Kingdom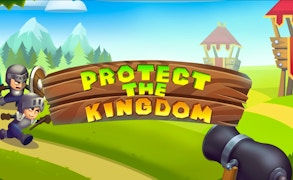 Protect The Kingdom
Get ready to step into a realm of epic battles in "Protect The Kingdom", an action-packed game that masterfully blends elements of battle games, sword games, and archery games; offering a thrilling experience that keeps you on the edge of your seat.
From the second you begin playing, Protect The Kingdom immerses you in a medieval world under siege. The enemy is upon us! Armed with disciplined swordsmen, aggressive wolves, ruthless archers and malevolent wizards, they threaten to tear down your peaceful kingdom. It's your mission, and yours alone to stop them.
The game mechanics revolve around strategically building and placing defensive towers across the field. Location is crucial; deploying these towers at advantageous points can be the difference between maintaining stability or surrendering to chaos. As players progress through the levels, a wide variety of towers are unlocked leading to broader strategies which require nimble thinking.
Protect The Kingdom's core strategy lies in its ingenious energy redemption system. Every enemy defeated rewards players with energy that can be used to construct more defensive towers— adding an intriguing layer of strategy to this already riveting game.
This alluring blend of tower defense and action will captivate fans of battle games, sword games and archery games alike. Its immersive gameplay combined with strategic depth make it more than just another game; it's a call to arms for every gamer seeking a challenging yet rewarding experience. So grab your swords, notch your arrows and prepare for battle— For The Kingdom!
In conclusion, Protect The Kingdom delivers intensity and strategy in equal measure; an epic battle awaits those brave enough to answer its call. Be warned: once you start playing Protect The Kingdom - putting it down is going to be a true challenge.
What are the best online games?