Princesses Coloring Book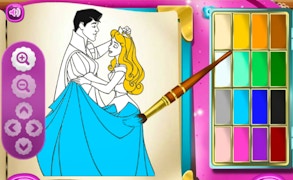 Princesses Coloring Book
Dive into a world where magic fills the air and fairytales come alive with Princesses Coloring Book! This captivating game is not just another addition to the realm of games for kids; it stands on its own as a shining jewel among princess games. Its enchanting illustrations and vibrant hues will instantly beguile fans of coloring games and drawing games alike, making it a must-have for those who love games for girls.
An enchanting journey waits upon every page of this whimsical coloring book, rendering it much more than merely one of the hundreds of generic coloring games. Here, beloved princesses from timeless tales come alive, awaiting your touch to imbue them with color. The game breathes life into the genre of games for kids, swapping the mundane pixel physicality with artistic creativity that will keep your children enthralled.
This is not just a game - it's an artistic venture, a creative escapade. It invites future artists to splash their favorite hues onto characters they adore so much. Not many drawing games can boast this depth of emotional connection. Furthermore, the interface is brilliantly child-friendly, making navigating through this sea of colors a breeze!
This wonderful adventure amongst princess games doesn't dictate any rules - creativity knows no bounds in Princesses Coloring Book! Girls can let their imagination run wild; decide whether Cinderella's dress is pink or purple? Should Ariel's hair be flaming red or ocean blue? The power to make these decisions adds to its allure as one of the standout games for girls.
Lose yourself in this beautifully designed universe, rich in color and teeming with magic. With Princesses Coloring Book, you're not just playing amongst ordinary games for kids; you're creating your very own fairy tale.
What are the best online games?