Police Cop Driver Simulator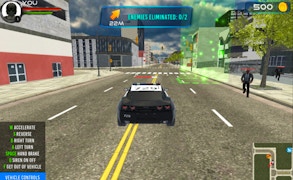 Police Cop Driver Simulator
Dive headfirst into the high-octane world of Police Cop Driver Simulator, a blend of the very best of car games, driving games, police games, and simulator games. This action-packed epic plunges you into the heart of law enforcement's underbelly where chaos ensues in the streets. From gripping car chases to riveting gun battles, this game intertwines elements of battle games, gun games, and gangster games into one thrilling package.
You play as a police officer armed with a slick police car and an arsenal of weapons. Your job? Stop criminals and robbers dead in their tracks. The juicy tidbits from headquarters provide a taut line of suspense throughout the game. Every mission is unique, making it a beacon amongst simulator games that often fall prey to repetitiveness.
The thrill doesn't stop there. With each successful mission, you earn coins that open doors to an array of exciting new stuff: sharper firepower, bulletproof vests and faster cars – all crucial tools for your crime-fighting endeavors.
The crowning glory of Police Cop Driver Simulator is undoubtedly the battle component. The fusion of car chases with sudden bursts of gunfire delivers heart-pounding excitement comparable to blockbuster movies. A battle royale on wheels, you could say! Battle-hardened gamers will relish the challenge with adrenaline coursing through their veins - a testament to it being more than just a mere driving game.
The world thrums with danger, life-or-death decisions echo in your ears - this is what it takes to wear the badge in Police Cop Driver Simulator. With its breath-taking graphics, immersive gameplay and an engaging storyline that pulls no punches – this game is a must-try for any action lover!
What are the best online games?