Police Cop Car Simulator City Missions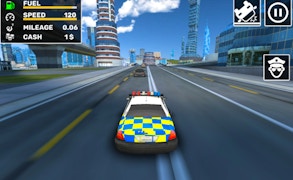 Police Cop Car Simulator City Missions
Immerse yourself in the thrill of law enforcement with Police Cop Car Simulator: City Missions, a masterpiece in the realm of action games, skillfully crafted by Best Free Games. A collision of car games, police games, and simulator games, this adrenaline-fueled experience perfectly mimics the heart-pounding call of duty, rendering it a titan among its peers.
As a fearless police officer, you commandeer a state-of-the-art 3D cop car, navigating the buzzing streets of a bustling metropolis, sirens blaring and engine roaring. This exhilarating game is not only a demonic test of your driving skills but also an immense treasure of driving games.
The game's primary objective is to chase down hardened criminals in high-speed pursuits. It's an exhilarating chase straight out of every cop movie you've ever loved but this time you're at the heart of it all. However, maintain caution and keep your eyes on the road as any collision with innocent vehicles will cost you valuable time, giving those pesky gangsters more chance to escape.
Bouncing along the line between reality and virtuality,Police Cop Car Simulator: City Missions manages to encapsulate the essence of real-life police chases into crisp graphics and responsive controls.
The sense of fearlessness combined with tactical prowess brings in elements found in your favourite gangster games. The demand for precision and skill makes this one of those truly awesome Skill Games.
In sum, if you're seeking adrenaline pumping action combined with high-octane driving wrapped up in beautifully realistic graphics, then strap into your seat and get ready to take down some bad guys with Police Cop Car Simulator: City Missions. It is indeed one of the best gun-toting gun games. Engage yourself now in this riveting ride full of action!
What are the best online games?