Police Chase Motorbike Driver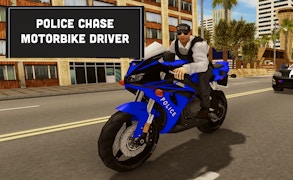 Police Chase Motorbike Driver
As plumes of dust rise from the rumbling roads, Police Chase Motorbike Driver establishes itself as an adrenaline-pumping juggernaut among motorcycle games. Fusing elements of car games, police games, and even gangster games, it delivers a fiendishly exciting experience that will have your heart racing just as much as your on-screen counterpart.
The game thrusts you into a gritty world where justice is a luxury only you can afford. Playing as the city's last line of defense, you're tasked with pursuing and apprehending criminals running amok. Much like the high-speed chases in notable driving games, every mission is packed with intense sequences and unpredictable turns that keep you on the edge of your seat.
An exceptional aspect of Police Chase Motorbike Driver is its realistic limitations. You don't just hammer the throttle and expect to catch every crook. No! Your bike's health gradually depletes with every impact, adding a layer of strategic decision-making to this exhilarating pursuit. It's not just about going fast; it's about going smart!
Your superhero journey doesn't stop at putting criminals behind bars. The game offers a plethora of bikes to unlock through mission completion and collecting scattered money, making exploration an equally rewarding endeavor. It beautifully interweaves elements from popular gangster games, where taking down bad guys and amassing wealth go hand in hand.
In conclusion, Police Chase Motorbike Driver is a thrilling hybrid of genres that successfully blends the robust action of police and gangster games with the engaging dynamics of car and motorcycle games. It presents a compelling argument for the versatility and boundless potential inherent in driving games, offering players an immersive, action-packed adventure that is hard to resist.
What are the best online games?