Police Car Cop Real Simulator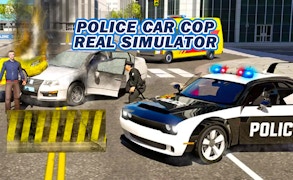 Police Car Cop Real Simulator
Step into the exhilaration and adrenaline-pumping world of Police Car Cop Real Simulator, an amalgamation of the best elements found in car games, police games, and open world games. This action-packed simulator game will have your heart racing at full throttle, promising you hours on end of high-octane entertainment.
Kick-starting the game, you are thrust into a chaotic world where reckless drivers rule the roads. Your mission? Restore order and decency to these asphalt jungles. It's a thrilling ode to classic gangster games with a law-enforcement twist. The game proves itself as a noteworthy entrant in the driving games genre - maneuvering your cop car through the weave of traffic is both challenging and invigorating.
Police Car Cop Real Simulator offers unparalleled freedom with its open-world design. The sheer size and depth of this sprawling universe amplifies the overall gaming experience, making it a standout among other open-world games. The feeling of immersion is stunning – it's like you can almost smell the burning rubber!
This game also doubles as one of the more compelling drifting games available today. The feeling as your police car fishtails through hairpin curves—tyres squealing, smoke billowing—is nothing short of pure joy for action gamers and drifting enthusiasts alike.
And let's not forget about its battle-centric core. Engaging in exhilarating chases with car thieves makes it one of the more dynamic police games out there today! You could liken it to playing your favorite battle game, except this fight isn't with ammunition—it's with horsepower.
In conclusion, Police Car Cop Real Simulator comes off strong—it captures all that's ever been loved about car games, simulator games, gangster games and molds it into one jaw-dropping package.
What are the best online games?