Plane Touch Gun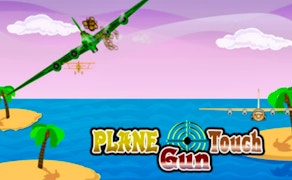 Plane Touch Gun
Prepare yourself for an adrenaline-fueled ride as we plunge headfirst into the riveting world of Plane Touch Gun. This action-packed game expertly merges the best elements of classic clicker games, riveting gun games, and high-octane airplane games to create a remarkable gaming experience.
The premise is simple, yet compelling: protect your base from hordes of enemy aircraft, gunning them down before they can unleash their firepower on you. The thrill each time you bring down an attacking plane, coupled with the dread as you watch your health bar deplete, creates an electrifying game atmosphere that keeps your fingers tapping incessantly.
The larger aircraft in Plane Touch Gun add a strategic element to the gunfire frenzy; these behemoths require more shots to obliterate and will keep you on tenterhooks as you balance between aiming for small, easy-to-destroy planes or risk it all to bring down the big ones. It is a constant seesaw between risk and reward that forms the heart of this game.
Your wits are tested even further after your game ends - guess where the hidden heart is and bag yourself extra lives! A tantalizing prospect that keeps players coming back for more after every playthrough.
To sum up, Plane Touch Gun is a thrilling blend of fast-paced action and strategic planning. Its captivating gameplay draws heavily from popular clicker, gun, and airplane games genres, making it an absolute must-play for fans of these types. With its gripping gameplay and clever life-gaining mechanics, Plane Touch Gun ensures that every aspect of the game is laced with excitement and suspense.
Whether you're a casual gamer looking for a quick adrenaline rush or a seasoned pro seeking their next challenge, Plane Touch Gun promises an exhilarating gaming experience like no other.
What are the best online games?