Pixel War Game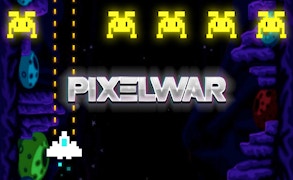 Pixel War Game
Get ready to embark on an adrenaline-pumping journey in the exciting world of the Pixel War Game, a standout entry in the realm of war games and battle games. The thrill of combat, the strategic planning of warfare, and the gratifying sound of pixelated explosions are all bundled up in this superbly designed game. This game is not just about battles; it's about creating an unforgettable action-packed narrative that keeps you hooked from start to finish.
Dive into the pixelated world, which is a love letter to classic pixel games. The graphics may appear simple but make no mistake - they do pack a punch when it comes to delivering high-octane action sequences. The innovative design makes every bullet, every explosion, and every character stand out. It's like a fully realized war painting brought to life in vibrant pixels.
The Pixel War Game masterfully blends warfare strategy with heart-racing action. It harkens back to fond memories of retro flying shooters while also propelling the genre forward with its unique spin. Are you a fan of flying games? Well, get ready to soar through gripping dogfights and aerial bombardments that will have your pulse racing!
The game's controls are smooth and intuitive, ensuring you're always in control amid the chaos of battle. The enemy AI is devilishly clever - always keeping you on your toes with unpredictable strategies and sudden assaults.
In summary, Pixel War Game is an electrifying fusion of war and battle gameplay mechanics presented in a splendid pixelated aesthetic. Whether or not you're already a fan of pixel games or flying games, I can confidently say this: once you've experienced the thrill and excitement of this game, there's no turning back.
What are the best online games?