Pixel SWAT: Zombie Survival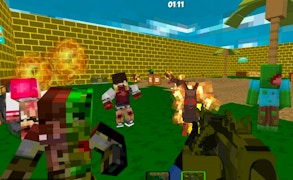 Pixel SWAT: Zombie Survival
Step into a pixelated world ravaged by the undead in Pixel SWAT: Zombie Survival, one of the most exhilarating gun games that seamlessly merges the gritty themes of war games with the grim aesthetic ofzombie games.
Featuring an offline mode, this game catapults you into an immersive gameplay experience where survival isn't just the name of the game, it's the only rule. The game starts with a fascinating premise: you're a SWAT officer in a city overrun by zombies, battling for survival. The map is expansive and dense, crafted meticulously with vivid pixel art reminiscent of classic pixel games. The blocky aesthetic gives this war-torn urban decay a unique charm and feeds into the thrilling action in no small manner.
In Pixel SWAT: Zombie Survival, every mission is a nail-biting battle against time and terror. Whether it's zombies or pixelated players, each adversary poses a unique threat, adding to the game's intense replayability factor. One minute you're navigating through claustrophobic alleys in search of ammo. The next minute you're up on rooftops, peering down your rifle scope at an approaching horde.
The 'funny mode' is an interesting addition that adds an unexpected twist to each session, keeping even seasoned players on their toes. It proves that even within severe genres such as battle games and survival games, there's always room for humor.
To sum up, Pixel SWAT: Zombie Survival masterfully encapsulates what makes gun games great while injecting its unique pixel twist into the mix. So why wait? Fire up this game today and immerse yourself in one of the most thrilling survival experiences out there!
What are the best online games?