Pixel Hero Warfare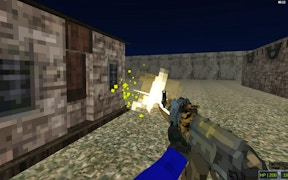 Pixel Hero Warfare
If you're a fan of gun games, battle games or pixel games, then get ready to buckle up and immerse yourself in the pixelated chaos that is Pixel Hero Warfare. This captivating multiplayer game takes the finest elements of all these genres, and successfully amalgamates them into a compelling test of skill and strategy, sure to tantalize even the most skeptical of gamers.
Presented in the charmingly retro style reminiscent of Minecraft, Pixel Hero Warfare plunges you straight into an adrenaline-fueled battlefield. Here, your pixel-bodied protagonist faces off against other multiplayer adversaries in a war of survival. This is truly a paradise for those seeking high-quality war games and survival games.
The gameplay mechanics are remarkably diverse, offering not only every man for himself but also team-on-team skirmishes. Whether you prefer to stand alone in deathmatch mode or be part of a combative unit in team deathmatch mode – it caters to all play styles and preferences.
Aesthetically speaking, Pixel Hero Warfare's blocky graphics serve as an endearing nod to classic pixel games. Yet, it doesn't stop there. The game introduces distinct characters; each with their unique abilities adding depth to the gameplay and providing an unrivaled range of strategies that promise to keep gaming sessions fresh.
All in all, Pixel Hero Warfare stands as a shining example of gun games done right. With its sublime blend of individual and team-based combat presented with engaging visuals and dynamic gameplay – it's no surprise why this offering has quickly become a fan favorite among the lovers of war games, survival games, battle games or pixel games.
If you haven't yet tried your hand at this brilliant fusion of genres - do yourself a favor – gear up and dive headfirst into the exhilarating world Pixel Hero Warfare.
What are the best online games?