Pixel Force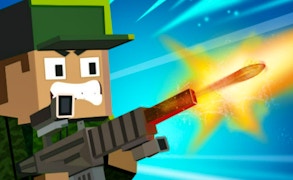 Pixel Force
Immerse yourself in the pixel-powered battlegrounds of Pixel Force, a fast-paced, action-packed shooting game that's about to redefine your definition of a thrilling war gaming experience.
As a top-notch entry among countless other gun games, Pixel Force is no child's play. It's a high-stakes, adrenaline-pumping adventure where every shot counts. Boasting a brilliant fusion of intense sniper missions with the retro appeal of pixel games, Pixel Force lets you hone your aim, unleash your firepower and strategize your way to victory.
In the mold of classic battle games, survival is earned not given in Pixel Force. You'll navigate its death match FPS (First-Person Shooter) terrain with precision and strategy, ready to outsmart your rivals at every turn. Your mission? To score maximum kills and reign supreme in this battlefield; a mission that's as thrilling as it is demanding.
The game thrives on its elements of surprise, putting your skills to the test in an unforgiving yet utterly captivating battlefield scenario. With each kill, you inch closer towards victory. But remember - you're playing against some of the most competitive players these pixelated war zones have ever seen.
In the pantheon of war games, Pixel Force stands tall with its electric blend of stunning pixel-art visuals, palpable intensity and polished gameplay mechanics. It exemplifies what makes shooter games so enticing, while simultaneously raising the bar for future titles in the genre.
To put it simply: If you've been scouring for a game that pairs fierce gunplay with tactical prowess, then Pixel Force is definitely worth checking out. In this arena, only one thing matters - whether you're shooter enough to take on the challenge. So gear up soldier… Good Luck!
What are the best online games?