Pixel Farm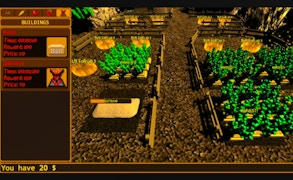 Pixel Farm
Welcome to the captivating world of Pixel Farm, a vibrant realm that brilliantly marries the excitement of Strategy Games with the charm of Pixel Graphics. This unique blend of Management Games, Farm Games, and Money Games offers a thrilling gameplay experience that is as engaging as it is refreshing.
If you love games about building, farming, and strategic resource management, this gem will captivate your heart. The game's simplicity is deceptive, with three levels to master; it's a deceptively sophisticated odyssey into the intricate world of agribusiness.
In Pixel Farm, you're charged with the fascinating job of planting and harvesting vegetables. As you delve further into this engaging world of pixels, you'll encounter progressively complex tasks, managing resources efficiently to maximise your profits. This feature speaks volumes to the influence of traditional Building Games.
The game's standout feature, however, lies in its stunning visuals. Harnessing the retro aesthetic of pixel art graphics reminiscent of old-school gaming nostalgia, Pixel Farm exhibits an eye-pleasing array of colors and shapes that make gameplay an immersive visual feast.
If there was ever a perfect synergy between Management Games and Farm Games with a sprinkle of Money Games' tactical nuances and Building games' creative satisfaction - all cloaked in an alluring pixel art style - Pixel Farm would undeniably be it.
Pixel Farm is not just a game; it's an addictive journey through dynamic levels wrapped in pixel-perfect presentation. It's an impressive testament to how Strategy games have evolved over time, offering endless entertainment for both seasoned gamers and newcomers alike.
In conclusion, if you're seeking a unique blend of strategy, management, building and farm gaming elements enveloped in dazzling pixel graphics - don't just walk; run towards downloading Pixel Farm today!
What are the best online games?