Pixel Apocalypse Shooting Zombie Garden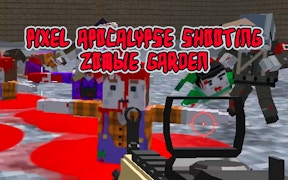 Pixel Apocalypse Shooting Zombie Garden
Welcome to the pixelated battlefield of the Pixel Apocalypse Shooting Zombie Garden, a gripping addition to the realm of shooting games. With its riveting blend of gun games, zombie games, and battle games, it guarantees an adrenaline-fueled gaming experience for avid gamers.
This game plunges you into a world overrun by zombies where survival is the only objective. As you venture into this pixelated apocalypse, be prepared for an onslaught from both humanoid soldiers and relentless undead. Navigate through 40 immersive offline levels, each teeming with unique challenges.
In addition to being a power-packed survival game, Pixel Apocalypse Shooting Zombie Garden integrates multiple game modes to ensure endless fun. Engage in raw one-on-one conflict in DM, or team up with friends for exhilarating TDM action. The fun doesn't stop there, as this multifaceted shooting game also includes a gun game mode and a riveting survival mode.
Push your skills to the limit as you master the art of pixel warfare in this captivating sniper game. Whether you're an expert sniper taking down enemies from afar or prefer to get up close and personal in the blood-stained trenches of war, this game has it all.
Offering an engaging multiplayer experience and tons of offline content, Pixel Apocalypse Shooting Zombie Garden is truly a standout in the realm of pixel games. It's not just about spraying bullets in every direction; strategy and precision are key to outliving the apocalypse. So gear up, soldier! It's time to take down zombies and reclaim your garden!
What are the best online games?