PinataMasters Online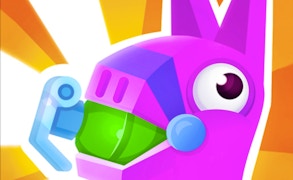 PinataMasters Online
If you're a fan of clicker games, tap games, or idle games, then it's time to unleash your tapping prowess on the epic world of PinataMasters Online. In this colorful arcade spectacle, you play as a daredevil on a quest to destroy mischievous pinatas scattered all over the globe.
The story might sound cute, but don't be fooled. These aren't your ordinary gift-filled pinatas. They're crafty, they're crazy, and they are waiting for you to let your guard down. Your mission is simple – travel far and wide and lay waste to these delightful fiends in over 100 thrilling levels across 4 awe-inspiring worlds.
The gameplay is where PinataMasters Online truly shines. It's fast, it's frantic and requires a perfect blend of strategy and relentless tapping. The more you smash the pinatas, the more coins you collect. And when you aren't smashing crazed pinatas into oblivion, you'll be spending those hard-earned coins on new weapons and upgrades – paving the way for even more intense action.
In terms of visuals, PinataMasters Online is a vibrant festival of colors that brings its insane world to life. Every level is designed with careful attention to detail, ensuring that each encounter is more challenging and visually appealing than the last.
To sum it up, if crazed pinatas and frenetic tap-based combat sound like your idea of fun, then strap in for an unforgettable ride with PinataMasters Online. Its addicting gameplay, vibrant art style, and extensive progression system make it a standout title in the world of arcade clicker games.
Note:
This game displays patience-testing ads occasionally which might break your immersive experience but remember – every hit brings you one step closer to becoming the ultimate Pinata Master!
What are the best online games?