Pet Runner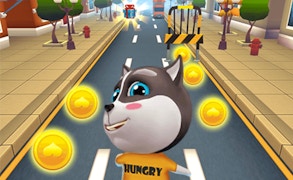 Pet Runner
In the expansive realm of animal games and running games, Pet Runner has effectively clawed its way to the top, offering its players an action-packed, high-octane gameplay experience that is as thrilling as it is captivating.
Pet Runner kicks off with an intriguing narrative where your beloved feline friend has been robbed of precious gold coins. This event sets into motion an endless run, both a quest for justice and an exhilarating chase to reclaim what's rightfully yours. The game's primary strength lies in its simplicity - run fast, dodge obstacles, and grab as many shiny gold circles as you can!
The game's namesake is no exaggeration - you are indeed a Pet Runner. And we're not talking about slow-paced jogging; this is a full-fledged sprint. Whether you're dodging fast-moving cars or ducking under trains, your pulse will be racing to keep up with the ever-increasing speed of your character. It's heart-racing, finger-twitching kind of fun that keeps you on your toes from start to finish.
An endless runner in essence, Pet Runner offers much more than just a single path forward. With each new game, players get the chance to explore new worlds, teeming with different terrains and obstacles. Every time you play feels fresh and exciting - a testament to the game's fantastic replayability.
In conclusion, Pet Runner sets a standard in the category of animal-themed running games with its exciting gameplay mechanics and visually captivating worlds. Whether you're an ardent fan of action games or just someone looking for some casual gaming fun, Pet Runner warrants a spot in your gaming collection.
What are the best online games?