Pet Run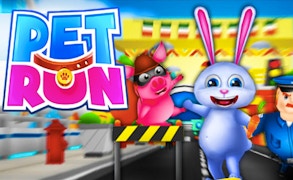 Pet Run
Today, we dive into the adrenaline-fueled world of Pet Run, a marvel in the realms of animal games, running games, and uniquely, police games. Picture this - exhilaration surges through your veins as you steer your favorite cute pet through bustling lanes buzzing with trucks, buses, and subway trains.
The heart of Pet Run beats with an addictive rhythm that channels the wild spirit of racing. Each round is a mad dash to collect coins while skillfully invading danger. The game captures the excitement and spontaneity of parkour-style running games with a delightful twist.
The beauty of this game lies not only in its high-speed action but also in its whimsical universe populated by charming pets. This remarkable combination solidifies its position among top-tier animal games. From cuddly kittens to agile puppies, each pet possesses a charismatic personality that brings an extra layer of enjoyment to the race.
Functioning as a pet run simulator as well as moving vigilantly on a mission akin to police games gives Pet Run an edge in gameplay diversity. One moment you are dodging moving trucks at hair-rising speed, the next you're on a mission akin to police games, chasing after mischievous pets gone astray.
In summary, Pet Run delivers an immersive gaming experience filled with dynamic action and lovable characters. It's bound to win over fans of both action-packed running and heart-warming animal games alike.
So gear up gamers! Whether you're seeking thrilling action or simply wish to spend some quality gaming time with cute pets, Pet Run is one game that should not be missed. The time has come for us all to unleash our inner speedster and brave the exciting chaos ensnared within this spectacular runaway adventure!
What are the best online games?