Parkour Run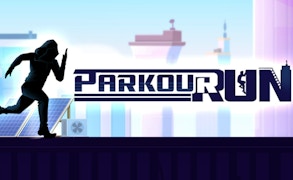 Parkour Run
Unleash your inner daredevil with Parkour Run, one of the most electrifying running games on the gaming radar. This game puts the 'action' in Action Games, tapping into the adrenaline-pumping world of parkour. It's an exhilarating blend of speed, skill, and pure unadulterated thrill that will have you pushing your limits and defying gravity at every turn.
The heart and soul of Parkour Run lies in its faithful representation of the principles of parkour. The game paints a world without constraints, where players are free to run along rooftops, leap through windows, dangle from ledges, and slide under huge water tanks. It's not just about running; it's about performing breathtaking parkour-inspired tricks using a range of vectors and angles. But beware! One wrong step could lead to a fall from great heights.
Parkour Run sets itself apart from other skill games with its unique blend of speed and precision. Its gameplay is both addictive and repetitive - a dream come true for high score seekers. Each run brings with it a new opportunity to beat your previous best and make your mark on the global leaderboard.
Amping up the experience is an exciting soundtrack packed with fast-paced music beats that perfectly complement the thrill-a-minute gameplay. The beats heighten as you jump higher, skid farther, or run faster, delivering an immersive gaming experience that makes you feel like you're truly part of this boundless world.
In conclusion, Parkour Run is a highly-engaging action-packed concoction that delivers an intense gaming experience while testing your reflexes like never before. It's time to lace up your virtual trainers and embark on an endless runner adventure!
What are the best online games?