Paper Minecraft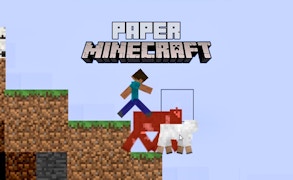 Paper Minecraft
Minecraft is a gaming superstar that continues to be played both casually and professionally and people adding their own takes on it like Paper Minecraft. You're returning to the world of the game but experiencing it from a different perspective. This time, Minecraft is a 2D platforming affair that has eliminated a whole dimension. In a way, this can be a less intimidating introduction to the original game which can be quite daunting to new players. It also runs quite well on the browser so you can try all a manner of experiments and ideas as you prepare for exploring the 3rd dimension at some point in the future.
About Paper Minecraft
There's a lot to enjoy from the act of just stacking things on top of each other. Even though Minecraft can be seen as an advanced and complex version of stacking blocks, there's still the same enjoyment. By making it 2D, the experience becomes something like Terraria but with the blocky movement of Minecraft to make it authentic. There are even elements in place to make learning and starting the game much easier to give a sense of empowerment. Even if you do mess up, half the joy is building it all back up again when you return.
How to Play
Paper Minecraft tries to capture the gameplay of the original as much as possible. It is however limited to the keyboard and mouse.
Controls
W/Up Arrow - Jump
S/Down Arrow - Swim Down
A/Left Arrow - Walk Left
D/Right Arrow - Walk Right
E - Interact/Open Inventory
Mouse Cursor - Move interaction space
Left Mouse Button - Use item/Mine block
Spacebar - Drop/Split item
O - Save the game
P - Pause the game
There's no goal or objective to the game, it's just a 2D sandbox for you to play in and enjoy. You can go left or right to visit new lands, find new materials, and encounter new creatures. Whether you're on an adventure to slay monsters or just want to build a house, the game accommodates.
Your character has two main stats that appear above their Inventory Bar at the bottom of the screen: Health and Hunger, indicated by hearts and meat respectively. Health drops if you take damage and if it drops to zero, your character dies. Hunger gradually drops and if it drops to zero, your Health will start taking damage. Both stats can be restored by drinking potions and eating food.
Tips and Tricks
The biggest limitation you have is your inventory space so don't take everything you come across just because you can collect it. Also, if you're not familiar with Minecraft mechanics, there's no harm in looking up a crafting guide and you should craft a Crafting Table first. Always be wary of being cornered by hostile mobs.
Paper Minecraft Game Modes
To add more variety, the game offers multiple ways to play in a 2D Minecraft world.
Survival - The classic mode where the world is wild and has enemies that pose a threat.
Peaceful - Experience the nature of the world without enemies to worry about.
Creative - Visit a world with a greater variety of blocks to express your creativity.
Default World - A 2D world full of different levels, structures, and compositions.
Flat World - A varied world that is entirely flat for easy navigation.
Game Details
Developer: GriffPatch
Platforms: Web Browser (PC and mobile)
Languages: English
Gameplay Footage
FAQs
How old is Paper Minecraft?
The game has been around for a fair amount of time, having been released on May 13th of 2013.
Games similar to Paper Minecraft
Related by association, the game fits into the Minecraft and Survival Games categories on GamePix. These collections also have titles like Hero 4: Slice Enemies, Bank Robbery, Voxiom, and Doodlecube.
What are the best online games?