Papa's Taco Mia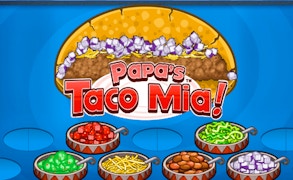 Papa's Taco Mia
Step into the fast-paced and flavorful world of Papa's Taco Mia!, a standout title in the restaurant-games and cooking-games genre. This engaging strategy game, part of the popular Papa's games series, challenges players to build and manage a bustling Taqueria.
In the colorful and quirky narrative of Papa's Taco Mia!, you're an unlikely restaurant owner who won the keys to a taco shop in a contest. The stakes are high as you whip up delicious creations for returning customers and surprise visitors. As you navigate your way around this flash-game, you'll find that pleasing the picky "Closers" and impressing Jojo, the food critic, will require strategic thinking and fast action.
This management-game offers an array of upgrades to enhance your shop's style and speed. Unlocking ingredients adds an additional layer of strategy as you adapt your menu to satisfy diverse customer preferences. Going beyond mere cooking simulator, Papa's Taco Mia! integrates elements of time management and customer service as well.
An exciting feature is the ability to earn up to 60 Badges for achieving specific targets like using unique toppings or scoring highly in different Stations. These goals not only elevate game play but also offer a rewarding sense of progression.
In conclusion, with its combination of strategic gameplay, vibrant graphics, lovable characters, and progressive achievements, Papa's Taco Mia! is more than just a 'time-killer'; it's a 'time-investor' where every minute spent is thoroughly enjoyable. A must-try for lovers of restaurant-based flash games.
What are the best online games?